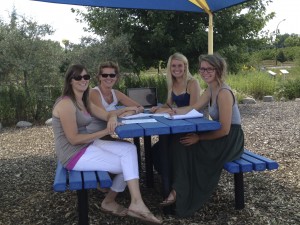 Putting Green College Internship
The Putting Green EcoCenter internship program provides a unique and rewarding educational experience for students earning a degree in environmental studies, biology, nonprofit management, sustainability, business, environmental education, sustainable agriculture, parks and recreation…  As an environmental learning center and nonprofit whose mission is to educate and inspire people to make informed choices for a healthy planet, we have a variety of onsite offerings – educational mini golf, field trip activities and a community garden.  Our campus is located on the Minnesota River and includes a river trail and native plant gardens, all of which are used to connect our visitors (and interns) to the Earth.  With all that we have going on, we can offer a rich and varied internship experience for a variety of majors.
This is a paid internship that includes guidance and mentoring while allowing for independent decision making.  You will gain skills and knowledge pertinent to the running of a small business and those same skills can be applied to the not-for-profit world –marketing, management, budgeting, event planning. Interns manage the mini golf course, assist with the community garden and landscape, and are involved with other aspects of our organization as deemed appropriate. The internship period runs from approximately June 1st through August 31st, but is flexible with time off for vacations, etc.
The ideal candidate is comfortable working outdoors as well as indoors, is interested in sustaining the planet for future generations, and is interested in gaining skills and knowledge that will help them make a difference no matter what they choose to do in the future. We are looking for two to three interns that would work together as a team, so consider applying with a fellow student/friend, but by no means is it a requirement.   Deadline for applications is April 20th.
Questions: contact Tracie Vranich at tvranich@comcast.net or 507.276.1958.
Interested parties should send a cover letter, resume and references to:
Tracie Vranich
Putting Green
PO Box 91
New Ulm, MN 56073
Our 2013 interns, Michelle Youngblom and Elisabeth Spencer, had a write-up detailing their experience, as well as how it applied to their fields, in the local paper: http://www.nujournal.com/page/content.detail/id/536144/Putting-Green-interns-reflect-on—.html
Michelle, reflecting on her time as an intern for Putting Green last season:
Interning at the Putting Green was a blissful summer job where I had the opportunity to grow as an individual while the vegetables and native plants simultaneously  ripened. Being a Peace Studies and Philosophy major and interning alongside a Biology major, the internship was able to adapt to various interests and passions. Highlights include picking raspberries daily, playing with and teaching kids during field trips, walking the river trail, and supervising underprivileged youth hired as landscape help. The internship also gave me experience in planning events and community engagement in New Ulm. Learning from local environmental gurus about sustainability, non-profits, and marketing had a significant impact on my competency in these areas, and has allowed me to have the practice needed for future job opportunities.