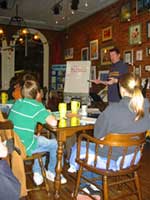 The EcoPreneur program is no longer active at Putting Green.
The EcoPreneur program started in 2005 with a group of twelve area high-schoolers. The program's curriculum (Business and Entrpreneurship for the 21st Century) helps students understand not only how businesses perform financially, but also how they play a role in shaping, and are shaped by, society and the environment. The course teaches triple bottom line practices, which measure the performance of businesses based on three sets of criteria: financial performance, social contributions, and environmental impact. Students are challenged to think about how we can measure these three outcomes, and how we make decisions based on them. Finally, they have opportunities to apply new knowledge and skills in real situations by working at the park.  Graduates may apply to operate the park by starting their own management company and contracting with Putting Green for their management services.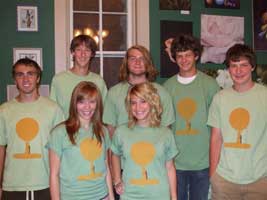 The 2010-2011 EcoPreneurs teamed up with Youth Energy Summit (YES!), a regional program administered by the Southwest Initiative Foundation. Through participation in experiential learning projects with real-world application and socially significant results, these students explored their ability to impact the world in which they live. In 2011, the students won 2 regional awards for developing a food waste compost project that took high school food waste and made compost. In addition, they developed educational programming for the New Ulm Public Library.  Through their efforts in the community, they learned how to work together to have local impact on global problems.