The idea for Putting Green was launched by a New Ulm family who, on vacation in 1997, discovered a fun family activity—- mini-golf!. On the way home, their 8 year old son was imagining and drawing mini golf holes in the backseat. Aha! Wouldn't creating a mini golf park be a great way for kids to enjoy hands-on learning in many different disciplines such as physics, math, art, and business? And every good mini golf course needs a theme. With a passion for education and a new found interest in sustainability —that what's good for the environment and good for business can be one in the same —-sustainability education became the park's focus.
Putting Green founders thought the blend of lighthearted family fun with the serious need to care for our environment seemed a perfect combination for success. Given what's been accomplished, it's apparent there are many who agree. Putting Green, Inc. formed in 2001 as a 501c3 nonprofit organization and leased a riverside property from the City of New Ulm. The park was designed and developed by young people with the help of mentors, educators and experts and opened its doors in 2005.
In 2008, the Growing Green was added to the campus. It is a two-acre commercial enterprise, providing fresh produce, herbs, and flowers. Located at the Park, Growing Green was initially a collaborative project with MRCI WorkSource, the largest provider of community-based supported employment in Minnesota, serving more than 3,000 people with disabilities in Southern Minnesota.
In 2013, the Growing Green transitioned to what is now the New Ulm Community Garden.  With available water, a fence designed to keep out even the most persistent deer, and many dedicated gardeners around to help out the beginners, the New Ulm Community Garden is a great option to help keep your food local and natural.
Thanks to its many supporters and volunteers, Putting Green is an ever-evolving innovative center for environmental education serving south central Minnesota.
The EcoPreneur program started in 2005 with a group of twelve area high-schoolers. The program's curriculum (Business and Entrpreneurship for the 21st Century) helps students understand not only how businesses perform financially, but also how they play a role in shaping, and are shaped by, society and the environment. The course teaches triple bottom line practices, which measure the performance of businesses based on three sets of criteria: financial performance, social contributions, and environmental impact. Students are challenged to think about how we can measure these three outcomes, and how we make decisions based on them. Finally, they have opportunities to apply new knowledge and skills in real situations by working at the park.  Graduates may apply to operate the park by starting their own management company and contracting with Putting Green for their management services.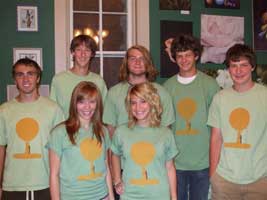 The 2010-2011 EcoPreneurs teamed up with Youth Energy Summit (YES!), a regional program administered by the Southwest Initiative Foundation. Through participation in experiential learning projects with real-world application and socially significant results, these students explored their ability to impact the world in which they live. In 2011, the students won 2 regional awards for developing a food waste compost project that took high school food waste and made compost. In addition, they developed educational programming for the New Ulm Public Library.  Through their efforts in the community, they learned how to work together to have local impact on global problems.